NTSA 50m Prone National Championships 2013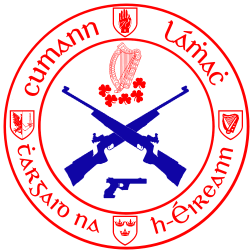 Conor McDermottroe (DURC) is the National Champion for 2013.

Stephen Murphy (DURC) is the silver medallist after a tight final with only 0.1 of a point separating him from Conor on the penultimate shot.
Seán Baldwin (DFST) took the bronze.
Qualification results here.
Final results here - check page 10 for total.
In the meantime here are some photos of the medal presentations, with more to follow later.
NTSA wishes to thank the Midlands National Shooting Centre of Ireland for the use of the range. Please note that the 2012 photos and (later) results are in the separate article below this one - scroll down to see
Click on the thumbnails for larger images:
Warning: No images in specified directory. Please check the directory!

Debug: specified directory - http://issf.ie/images/2013/50mnationals
Click on the Read More button for more photos from Sunday's 2013 Nationals - thanks to Anthony Fagan for supplying some of the images.
Ray Reilly has a photostream on iCloud in wonderful hi-res. To view visit https://www.icloud.com/photostream/#A25n8hH4ehM1a

Warning: No images in specified directory. Please check the directory!

Debug: specified directory - http://issf.ie/images/2013/50mnationalsclass