NTSA 50m Prone National Championships 2012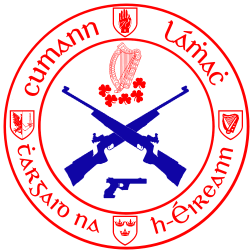 Conor McDermottroe (DURC) is the National Champion for 2012.

David Franklin (DURC) is the silver medallist.
... and in a clean sweep by DURC, Aisling Miller took the bronze.
Qualification results here.
Final results here - check page 10 for total.
In the meantime here are some photos of the medal presentations, with more to follow later.
Again, NTSA wishes to thank the Midlands National Shooting Centre of Ireland for the use of the range over the weekend which allowed us to run two years championships over consecutive days.
Click on the thumbnails for larger images:
Warning: No images in specified directory. Please check the directory!

Debug: specified directory - http://issf.ie/images/2012/50mnationals
More photos (class prize winners and competitors in action on Saturday) - click the Read More button
Ray Reilly has a great set of pictures from Saturday's action on iCloud - visit https://www.icloud.com/photostream/#A2Grq0zwG8julj
Warning: No images in specified directory. Please check the directory!

Debug: specified directory - http://issf.ie/images/2012/50mnationalsclass